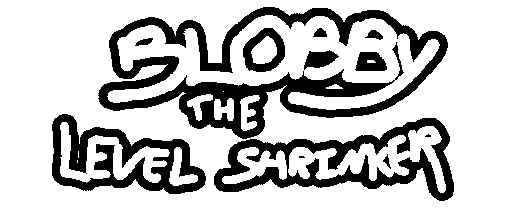 Blobby the Level Shrinker
A downloadable game for Windows

Welcome !
You are about to play a game that has been made in 48 hours for the GMTK Game Jam 2019 ! Cool, uh ? The theme is Only One. And all of this game is happening on only one screen... But with a twist !

Blobby is a blob. As we all know, blobs are not very smart and this one just want you to guide him to the exit. How, you may ask. Well, that's simple ! You will have to shrink the very fabric of reality and ignore all basisc laws of physics. Eh,.. in other words, that means you are able to shrink the level in order to reach the unreachable exits.
Here's a small gif that may help you understand
There is currently 4 levels available. These levels are not very difficult, but it may give you an idea of the main idea potential.
You control Blobby using the arrow keys and you can reset a level using the 'R' key. Though, I've tried to design the level so you cannot be stuck, so you may not need to reset a level :) You can use the escape key to quit the game.
About
This game has been almost entirely made by Lucas Delvallet, that means idea, code, graphics, , level design.

The only music has been made by lifeasaghost and is available here : Jamie
The game has been made with the framework Monogame, using C#.
Here are the results of the GMTK Game jam, thanks again everyone :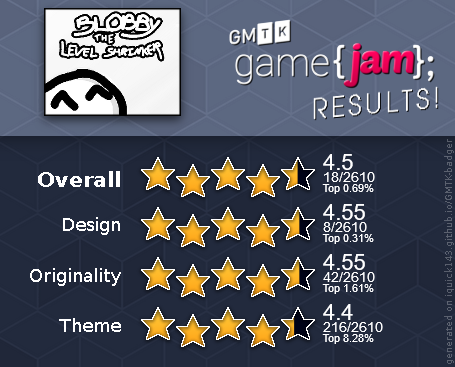 Also, you can read the making-of here !

Have fun !

Install instructions
You have extract the .zip folder before playing :)